Our educational philosophy is focused on the whole child - intellectual, cultural, physical, social and spiritual and strives to develop the good, the true and the beautiful in every child. A balanced approach to education through quality curricular and extra-curricular programs provides opportunities for students to explore their potential. We provide a range of programs that cater for a variety of talents and interests.
Extra-curricular activities vary each term and include a range of activities including netball, tennis, basketball, soccer, athletics, golf, cricket, art clubs, culinary clubs, chess clubs, choirs, string ensembles, performance bands, dance, speech and drama, musicals, debating, coding clubs, robotics, student councils, environmental clubs, gardening clubs, comic book clubs and many more.

Some of these Clubs and Activities are highlighted below: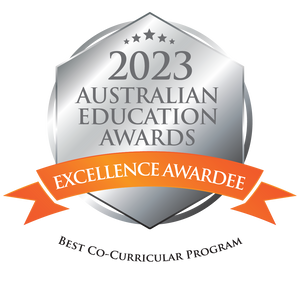 Culinary Club is a nationally recognised co-curricular program and a service orientated activity for Year 6 to 12 students who have a passion for cooking and a desire to use it in service to the College. Each term our young chefs focus on a new branch of the Hospitality Industry and are pushed to churn out some amazing food to restaurant industry standards.
Our TLC Culinary Club has been shortlisted as an Excellence Awardee for the 2023 Australian Education Awards - Best Co-Curricular Program.
Find out more about our TLC Culinary Club HERE.

Degustation Dinners - 6 restaurant quality courses, across two nights for over 40 guests each night
Tour de Force - Three Course Dinner Theatre
Bake Sales
International Food Van Day
Titanium Chef - Culinary Challenges
Our TLC Mooting Club is made up of some very determined and dedicated Year 11 & 12 students who battle it out in front of real judges and members of the legal profession at various competitions throughout southeast Qld including the University of Southern Queensland's prestigious Secondary Schools Moot Competition for 2022, which our team won this year.
Members work tirelessly at rehearsals to correct and sharpen their presentations which is crucial as they are often interrupted by real judges who ask complex questions to gauge their understanding of the issue. Being part of TLC Mooting Club isn't just about entering competitions, it is encouraging our students to consider studying Law and further their argumentation and analysis skills.
TLC Mooting Club Motto - Fortuna Eruditis Favet "fortune favours the prepared mind"
Strike Theatre consists of students from Year 7-12, working together to refine their stagecraft, teamwork, performance skills and attention to detail in preparation for the seven festivals on the Southeast QLD Theatre festival circuit. Find out more in our Drama section of our website - click here.
Our Chess Club is an after-school activity that is run by Gardiner Chess. Players compete against other schools in the Gardiner Interschool Chess Competitions.
Our extra-curricular program offers many different sport activities that vary each term and includes: AFL Auskick, Net-Set-Go, Golf, Tennis, Cricket and many more. Find out more in the Sport section of our website - click here.
Our Debating Teams compete regularly in the QDU Competitions (Qld Debating Union).
TLC Music has a vibrant and expanding Music Ensembles Program. The Ensembles are designed to complement student learning in Classroom and Music Studio Tuition by providing group performance opportunities. Find out more in the Music section of our website - click here.
Our EnviroWarriors hold regular events to raise awareness on environmental issues. These events are a fun day that may include students dressing up or accessorising with a particular colour:
Steve Irwin Day
World Oceans Day
National Threatened Species Day
Koala Awareness Day
In Years 3 - 6, each class nominates two Environmental Monitors each semester that meet regularly with our Deputy Head of Primary.
Kokoda Challenge is a 48km hike through the mountains of the D'Aguilar NP which is open to all students in Year 8-12. Training takes place after school on the paths of the local community and on weekends in the Sunshine Coast Hinterland.
The Challenge is run under the four core principals of the original Kokoda Military Campaign – Courage, Endurance, Mateship and Sacrifice. Students are encouraged to develop resilience through hard work and dedication to their training, ultimately being rewarded by the personal accomplishment and exhilaration of crossing the finish line on Challenge Day.
More information is available on the following website: or watch the following videos that TLC features in: